How to choose and buy a Borealis kitten or cat
So, you're thinking of buying a Borealis kitten. What do you do first? What do you do next? Read this to find out.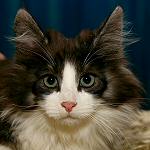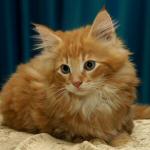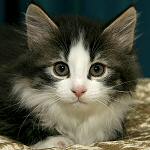 How to choose and buy a Borealis kitten or cat.
---

Choose the kittens you are interested in from the 'We Have Kittens' page on the Borealis Cats web site. Look at the parents, older litters, siblings and relatives (we have lots of photos!) to work out what he/she might grow up to look like. This breed doesn't stay small and cute for long!

Decide whether you want one kitten or two, as 'compulsive collecting' of NFC kittens is a frequent occurrence amongst owners of these lovely cats! Two kittens will always have each other for company and, if you work full-time, this is a recommended option as Norwegian Forest Cats adore company and get lonely on their own.
Contact Loraine for price and other details, preferably by email. Price includes first vaccination, vet check, desexing (if a pet), litter training, flea and worm control treatment, and a lifetime of follow-up whenever required.



If you are seeking an entire kitten, i.e. not desexed, for breeding purposes, you MUST be a registered cat breeder with a recognised Cat Fancy Body and your membership number will be required for the pedigree registration. Breeding cats are always good quality and type, although show temperament can never be guaranteed and you will sometimes need to do a lot of work in order to accustom a kitten/cat to the stresses of being shown. There are no refunds available if a cat for any reason is not able to breed or is not successful at shows, although a discount will usually be offered on another suitable kitten.


If you intend to show your kitten, let us know as registered pedigrees will need to be arranged and you will need to join a local cat fancy body as a registered exhibitor. Be prepared that the kitten you have picked might not grow to have the best 'type' for shows. Instead, you will be guided to a good quality NFC as we are only too happy for Borealis cats to do well at shows, and would only sell our 'best' for such a purpose. Show neuters or spays are the same price as pets, and buyers are encouraged to show and offered instruction.


Make arrangements by phone (evenings/weekends, please) or email to see the kitten in 'purrson' or confirm your interest in the one you admire by paying a deposit of $400. This deposit is non-refundable, as the process of desexing and/or registration will commence. This is not a 'holding fee', but an agreement to purchase a kitten. However, a deposit can sometimes be transferred to another available kitten by mutual agreement.


Contact us when you decide on a particular kitten and it will appear on the website as 'On Hold' until a deposit is paid. He/she is then 'Reserved' and no longer appears as available. You can rename your kitten if you like and this name will be put on the website.



When you come to see kittens for the first time, there is no obligation to buy, but please be aware that our time is limited as we have full-time jobs. Please arrive on time or contact us if you are running late, and please don't expect to stay for hours! A normal visit to choose a kitten or visit the one you have reserved, meet his/her parents and siblings, and perhaps place a deposit, can take around 30 minutes but you are welcome to take time to consider your furever friend. You will need to phone for the address and instructions as to how to find us. Visits will normally be at weekends, by arrangement, although the lighter summer evenings are possible too.


Your kitten is thoroughly vet-checked and vaccinated with F3 vaccine (cat flu and enteritis) at 8 weeks old, by which time he/she is weaned and litter-trained. If the vet finds any problems, you are notified immediately and your deposit can be returned in full if necessary.



The law states that kittens must not leave the breeder until a minimum of 10 weeks of age. Please do not request one under that age! Borealis kittens are normally collected at around 11 weeks old, but if shipping interstate or overseas, it is better that they are a minimum of 12 weeks old. Some airlines insist they are at least 14 weeks old. The extra expense of looking after a kitten going overseas is included in the price quoted.

Please note that the price of a kitten always includes a compulsory microchip (now law in Victoria), which on purchase needs to be transferred to the new owner.

When collecting a kitten, the balance due on him/her is payable in cash.We cannot accept cheques, and we do not have credit card facilities. However, arrangement can be made to pay via direct deposit over the Internet.

Account details are:
L F Smith, Bendigo Bank,
Fountain Court, Bendigo, Victoria
Australia 3550

BSB: 633000
Account No. 107589905
Payment must be received before the kitten is released to its new owners..
Please read the Health Warranty link on this website and be sure you agree to the Terms before placing a deposit on a cat or kitten. Reserving a cat/kitten with a deposit indicates you have read, and accept, the terms of the Warranty.
Click here to read the warranty (.PDF file)

Please always remember to bring your own cage if collecting a kitten personally, and make arrangements in advance for the date and time of collection. Please BE ON TIME as the life of a cattery owner/breeder/cat show judge is a very busy one, and we have other commitments during the day. People are not welcome to look around the cattery when no-one is in, and there are security cameras for the protection of the cats.


If you are importing the kitten to an overseas country, you will need to ask your own Customs and Quarantine departments for their procedures. This normally involves obtaining an Import Permit, which costs a small fee. Quarantine procedures in Australia are very strict, and kittens need to be in excellent health to leave Australia. Depending on your country, sometimes the kitten needs to undergo rabies vaccination protocol, involving an additional expense of around $220 which includes International microchip.


Shipping interstate is carried out by Australian Air Express or Toll Holdings, usually via a Qantas or Virgin flight to your nearest large airport. We have a courier available who can often arrange delivery to more remote airports, but some small airports will not handle livestock. Shipping includes handling, air-quality crate (you get to keep this), delivery to Melbourne's Tullamarine Airport, flight to your airport, and all documentation. You will be told when the kitten/cat can be collected and please, be on time.


Older cats are sometimes available for adoption at around half the price of a kitten. These are usually females who have reached the age of 4 or 5 years old, at which time it is considered they should no longer undergo the stresses of going into heat, calling, pregnancy and raising their family. They are 'retired'as still fairly young cats with a good lifespan ahead, and the ability to adapt to living in a new home. Sometimes we have older kittens that were not sold, due to over-abundance during breeding season, but this is rare. Please do not ask if we ever have free cats! (We don't!) Our cats are valuable and special and we love them all, and are never to be given to people who cannot afford to buy them for what they are worth, or look after them properly.


Adopting a kitten is just the beginning of a long relationship with Borealis Cats. If you have any problems with your cat or kitten, don't hesitate to contact us by phone or email for advice, particularly if it is to do with health during the first few months. This is a vulnerable time for any kitten. We will do everything possible to assist you.
Loraine Smith
BOREALIS Norwegian Forest Cats